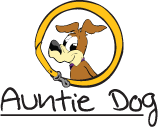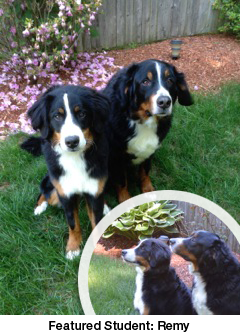 "Remy is a 5-½ year old Bernese mountain dog. We brought Remy home from the breeder at 7 weeks and she was delightful. We attended puppy kindergarten and obedience classes with Remy at another training facility. We never seemed to achieve the results we were looking for.
By the time Remy was 7 months old she was displaying signs of hyperactivity, attention-seeking behavior and was jumping up on everyone. She was eating clothes, socks and anything else she could find. Walking on a leash was one long pulling session and she had no recall.
Whenever we tried to stop her from jumping or correct her behaviors she would growl at us. She would snap at our face or nip our hands if we did not give her the attention she was after. I could not even sit on the couch and watch TV without Remy jumping or barking and she was becoming increasingly aggressive towards me. We saw our adorable little puppy turning into a monster right before our eyes and knew we needed help with this dog!"
Challenge Driven Dog Training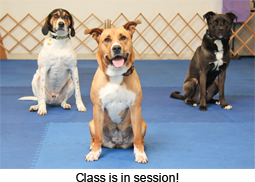 We believe that all students deserve our full attention and evaluation. We do not offer a fast food, one-size-fits-most approach to dog training. Auntie Dog training programs are challenge driven.  Student concerns and questions are addressed in all programs.
Auntie Dog offers an AKC S.T.A.R. Puppy Program, Therapy Dog Workshops, Rally Drop-In Classes, Group Obedience Classes, Private Lessons and Training Camp. Whether your dog is in need of behavior modification or just more reliability and attention in your neighborhood, call us. We would be happy to schedule a free evaluation and show you a demonstration.
The Auntie Dog Training Studio was designed for handler enjoyment and to maximize dog performance. Shock absorbing flooring and comfortable year 'round temperatures keep everyone feeling and working at their best.
The Auntie Dog Training Studio is conveniently located on Route 38, Main Street in Tewksbury, MA.
The Studio is easily accessible from routes 495, 93 and 3.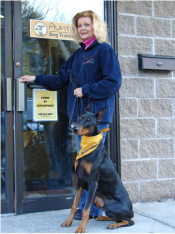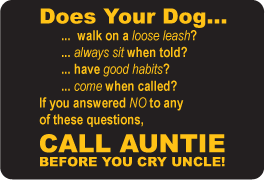 1487 Main Street, Tewksbury, MA 01876

Training Studio: 978-455-9967
AuntieDog.com graphics and composition by Freestyle Graphics